Found for us by
Amber Cook
.
From Jane Friedman:
Key takeaway: By the end of 2012, nearly half of US book sales (print + ebook) were happening online (eCommerce), which is primarily driven by Amazon. Notice how the large chain bookstore retail share drops from 31.5% to 18.7%, driven in part by the bankruptcy of Borders. While many people focus on the percentage of ebook sales (currently averaging about 30%), I'd argue it's more important to keep tabs on where the majority of sales are happening, regardless of format. This directly affects the value proposition of traditional publishers (at least for now) and how books get discovered and/or purchased—increasingly online through tech giants such as Amazon, Google, Apple, etc.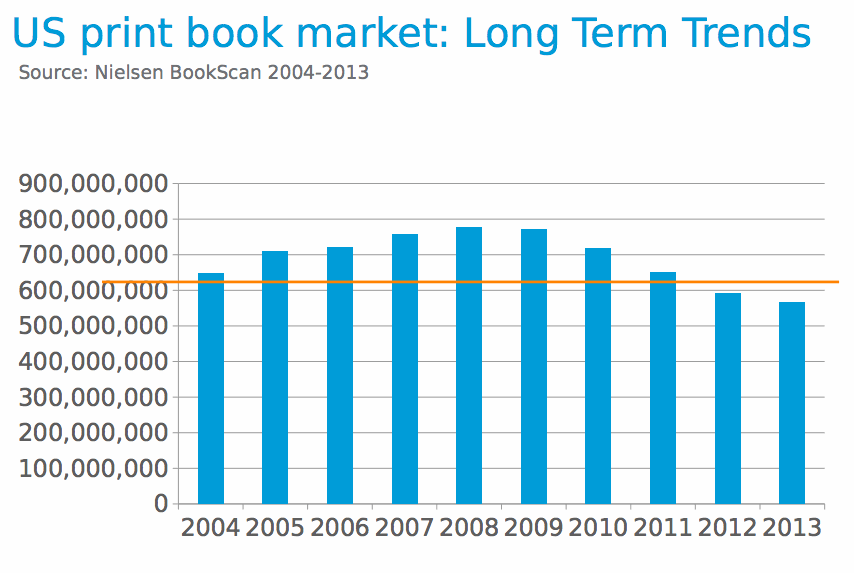 Key takeaway: This chart shows print sales (in units) in the US print book market, which peaked in 2008-2009. In a 2014 presentation, Nielsen discussed how nonfiction adult sales peaked earlier, in 2007—but that children's book sales are still ahead of their 2007 levels and comprise a larger part of the print market, meaning physical stores are important to that market (more so than adult books), and/or haven't as successfully transitioned to digital.
Key takeaway: Mobile- and tablet-based reading environments already play—and will continue to play—an increasingly important role in how people discover, purchase, and consume content. Also notice that ebook readers are the least popular "gadget" on this chart; many people disagree on whether this will remain stable or decline. (Some say avid readers will always prefer a dedicated device; my personal opinion is that most reading behavior will shift to tablets or phones). Whether you have a website, e-mail newsletter, book, magazine—anything—to be successful for the longterm, you must consider the growing percentage of mobile- and tablet-based users. (Obviously, this is a much bigger trend affecting every business and organization.)
Key takeaway
: E-books are significantly more profitable for publishers than print books, primarily because Big Five ebook royalties remain at 25%. Publishers Marketplace comments, "On a hardcover, the author earns 30% of the publisher's gross revenue, and 42.5% of the total margin (what the author and publisher together earn). For now, on the ebook, the author earns 25%."
Read more (subscription required).
The big question, of course, is how long can publishers keep the royalty rate at 25%? Hugh Howey has been asking this question, very publicly, over at
AuthorEarnings.com
.
Key takeaway: There is an unsurprising link between good metadata and sales. This particular report shows how complete metadata gives a sales boost to all book categories, but especially fiction, probably because fiction titles benefit from additional contextualization to aid searches. (If you're looking for a nonfiction book on rose gardening, you can probably find it based on title and category; if you enjoy novels that take place in Europe in the 19th century, you'll have a harder time unless that context is included in the metadata.) At BEA 2013, I listened to a panel on metadata, and the most memorable quote was from Phil Madans of Hachette: "If you don't want your books to be found ever, use the Fiction: General category as your BISAC code." For authors, this means: Don't ever publish and distribute a book categorized as "general fiction."